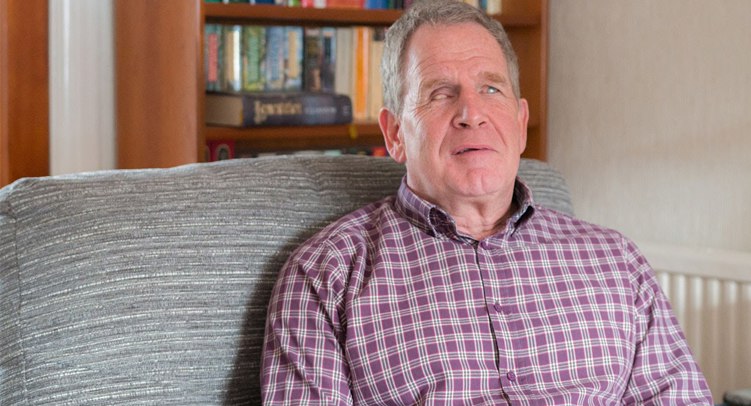 Biography
Mike Brace was born in Hackney, North London, in 1950.  He went to a local school and spent as much time playing sport as he did on his academic work
At the age of ten he was blinded by a firework which some other children had concealed in a black medicine bottle, and which, when Mike picked it up, exploded in his face!! 
Mike used his passion for sport as a crutch to aid his adjustment and rehabilitation. His love of, and involvement in, sport has continued for the past 50 years. 
Mike lives in Hornchurch, Essex, with his wife Maureen whom he married in 1972.
After nearly 50 years of blindness, Mike got his first guide dog, Izzy, in 2010, and his second dog, King, arrived in 2019.
Career
Mike initially worked as a shorthand typist for the Department of Trade and Industry, but realised that he was in the wrong job after about two weeks! He began studying for "A" levels and on gaining two, he went to the North London Polytechnic (now London Metropolitan University) to study social work.
Mike worked as a Social Worker/Manager, in Tower Hamlets, Hackney, Islington and finally as a Service Manager/Assistant Director for Children's Services in Kensington and Chelsea.
On 1st October, 2001, Mike took up a new position of Development Director for the newly formed "VISION 2020 UK", which is an organisation endeavouring to get the numerous voluntary bodies, health and statutory services involved with vision and sight loss, to work more closely together.  He retired as their Chief Executive in June 2012, and when he left VISION 2020 UK had 51 member organisations.
Sport
Mike has undertaken over 50 different sports ranging from surfing and sailing, to skiing and cricket.
Mike was National Champion at race walking for many years and still holds many of the records for a totally blind walker.  He enjoys his cricket and plays for his club Metro who have been National Club, League and Cup Champions many times.
Mike regards his main sporting achievements as completing 2 London Marathons, 2 ski marathons in Norway and Switzerland, and, definitely the most tiring, the Devizes to Westminster Canoe Marathon - over 125 miles!!
Mike first represented Britain at cross-country skiing in the first Winter Paralympics in 1976 and then represented his country in 3 World Championships, 6 Paralympics and 2 European Championships.
As Mike became too old to race, he got involved in various management tasks both within skiing and other sports. He managed the Cross-Country Ski Team from 1988 until 1994, and then was appointed Chef de Mission for the Great Britain Team for the 1998 Winter Paralympics in Nagano, Japan. 
He attended, as a Director of Paralympics GB, the Sydney Summer Paralympics in 2000, and then in 2001 he was elected Chairman of the British Paralympic Association, and as such, performed the role of Head of Delegation at all Paralympic Games from 2002 to 2008.
Mike has also managed athletics teams in European and World Championships, and was the Manager for the first England Blind Cricket Team, which participated in the inaugural World Cup of blind cricket in India.
Honours
Mike was awarded the OBE for Services to Disabled Sport in the 2005 New Year's Honours List, and the CBE in the Queen's Birthday Honours list 2009 again for his contribution to Disabled Sport.     
Mike was awarded an Honorary Fellowship of the College of Optometrists in 2005, and an Honorary Doctorate of Philosophy at London Metropolitan University in December 2009.
He was made an Honorary Fellow of the Royal College of Ophthalmologists in September 2011 and received two further Honorary Doctorates in Business Administration from Anglia Ruskin University in October 2011 and Social Science from University of East London in 2015.
He was appointed as a Deputy Lieutenant of London in July 2016